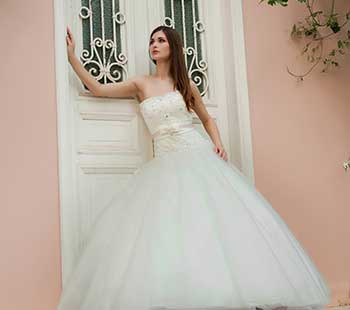 As Tom Santilli of the Detroit Wedding Examiner writes, "Michigan, and specifically the Detroit-Metro area, is a uniquely beautiful place to have your wedding. We experience all 4 seasons (sometimes in the same week!), which gives you the perfect atmosphere no matter what you prefer: The bright summer day, the cool spring, the white winter wedding, or all the colors of fall."
Tom has been to weddings at over 400 locations all over the state. He knows some of the biggest names in the industry that people from all over the country choose for their most special day: Cherry Creek, Addison Oaks, Concorde Inn, and the Roostertail, among others. Soon-to-be-weds in Michigan are truly blessed for having such beautiful places to tie the knot. And now, there is another reason they are at an advantage when planning their weddings: Jenna in White.
On a couple's special day, everything should – and can – be perfect. While the selection of the venue is partly done with the guests in mind, the creation of the bride's outfit is something that's all about her. Although open only since November 2013, Jenna in White has over 25 years of experience in creating wedding dresses, custom wedding veils, wedding shoes, and accessories. Jenna uses only the best quality fabrics with exquisite embroidery and lace, and incorporates elements such as seed pearls and Swarovski crystals, according to each bride's personal style.
The Shoes
While the bride's dress will be a one of a kind creation that will be used only once (unless passed down for her daughter's wedding), the shoes are another matter. Wedding shoes can also be used in future events that call for special occasion shoes. In creating the bride's shoes, design and function are equally important. The design should be awe-inspiring, even if they are usually hidden by longer wedding gowns. What is important is that they are exquisite, and they make the bride feel beautiful.
People are generally split between those who want the shoes to match the dress, and those who want the shoes to be contrasting (but definitely not clashing). If you choose to match the dress, you will want to make sure that they are an exact match, since slight differences when put side by side become all the more noticeable. As both the dress and shoes are customized at our store, we can provide you with color swatches so that we can go over what you're looking for and help you decide. If you want your shoes to be contrasting to your dress, choose instead to match it with another element of your wedding décor, whether the bridesmaids' dresses or flower arrangements.
That being said, they should also be engineered to allow the bride to walk gracefully and comfortably. If you wear flats most of the time but want high heels for your wedding, you might want to practice with different styles and see what works best for you.
The Veil
There are a number of considerations you may want to keep in mind when we design and create your veil. Each face is unique, and the veil should complement accordingly. The hairstyle you plan to have on your wedding day is also factored in when choosing styles. Some brides prefer not to cover their faces for their walk down the aisle, but for those who do, the veil will have to have at least two layers. Again, we will use color swatches to make sure the color goes well with the dress and shoes, and the style matches or complements as well. Even the venue and the weather are important factors in deciding what design and style the veil should be.
Schedule an Appointment
At Jenna in White, we accept guests by appointment to ensure that we can work together closely for the utmost personalization of your outfit – from veil to dress to shoes. Call Jenna Huntley at 734-276-9370 or email jenna@jennainwhite.com.  You can also come find us on-line:
Facebook Fan Page / Twitter Feed / Google+ Account